2020.05.05 Tuesday
Today is Children's Day.
So for elementary school students.
Reposted content of an experiment in a school lab in 2009.
Acidic / neutral / alkaline.
BTB is complicated to dispense. The litmus test paper is difficult to see the subtle differences.
Therefore, I experimented with a solution made by boiling red cabbage and Gynura bicolor.
[red cabbage solution]from the left
hydrochloric acid/Aqueous sodium hydroxide solution/Aqueous sodium chloride solution/Boric acid water/Soapy water/Calcium hydroxide solution/vinegar/Sugar water/Carbonated water/Tap water/rain water/Purple cabbage solution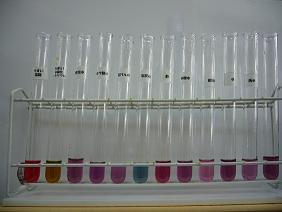 [Gynura bicolor solution]from the left
hydrochloric acid/Aqueous sodium hydroxide solution/Aqueous sodium chloride solution/Boric acid water/Soapy water/Calcium hydroxide solution/vinegar/Sugar water/Carbonated water/Tap water/rain water/Gynura bicolor solution